After a catastrophic year for the textile industry in Pakistan due to the floods, Pakistan textile exports in Pakistan have increased again amid an increase in global demand. The textile industry in Pakistan makes up most of the foreign exchange earned as it makes up 60.8% percent of the total exports which was $31.79 billion.
Pakistan, being the 4th largest cotton producer as well as the 3rd largest consumer of cotton worldwide, continues to hold a strong position within the global textile industry. However, the country continues to face frequent obstacles such as restrictions on critical inputs as well as severe delays in import permits.
While the Pakistani textile industry goes through various difficulties due to floods and import restrictions other countries in South Asia have optimized their production of textile goods and services giving them a competitive advantage.
The increase in gas and electricity tariffs and the ongoing energy crises interferes with the local textile industries' production capacity to meet the export demand thus hampering the amount of foreign exchange earned. This in addition to the global inflation leading to an economic slowdown would definitely result in lower apparel demand.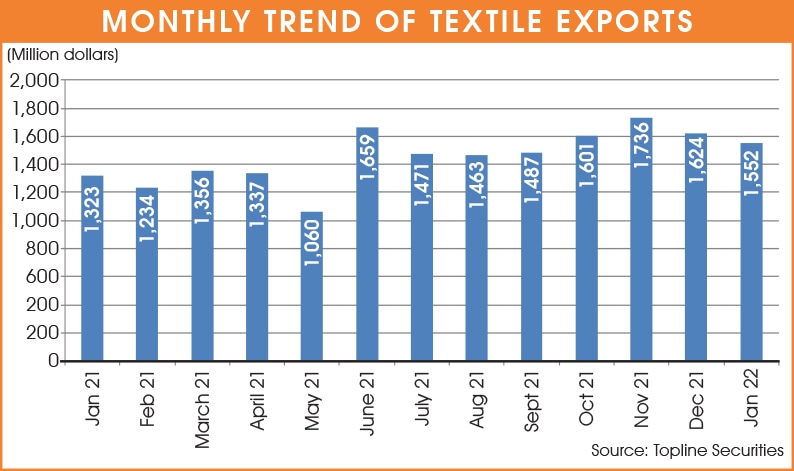 Over the last few years, the ready-made apparel and garments industry has come up as one of the most essential small-scale industries in Pakistan, with a large market demand both locally and abroad. However, Pakistan's finished apparel could benefit immensely from technological upgradation if they are to compete on a global scale.
Data shows that ready-made apparel exports increased by 30.63% in value and a 49.70% increase in quantity exported, whereas the knitwear exports went up by over 36.44% in value. And home textiles which include bedwear increased by over 21.68% in value and in terms of textile raw materials, cotton yarn exports increased by 24.18%.
Though there has been a rise in demand for ready-made textile apparel, the lack of government policy and the recent floods impacted the production capacity of Pakistan's textile industry. Nevertheless, Pakistan's textile industry luckily is on an upward trajectory, due to rising global demand, even if it does so in small increments, , with an approximate increase of $500 million per month. However, even the current capacity is not utilized to its full potential due to energy supply constraints which have cost Pakistan approximately $300 million lost in exports per month.
If incentives are provided to the textile sector there will inevitably be an increase in investment by investors in the textile industry. In FY21, Pakistan textile exports made up around $15.4 billion, which was a recorded increase of 25.55%. Keeping the contribution of the textile industry to Pakistan's economy and the further potential it holds, the government needs to come up with a textile and apparel policy with several measures that can promote the production of textiles as well as maintain the quality of textiles and clothing.